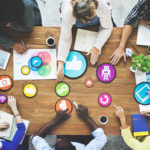 The following article first appeared in the April 2016 issue of Marketing the Law Firm. Strategy is a high-value word. When something is "strategic" it is seen to have value and purpose. What then is the strategic value and purpose of thought leadership and content...
read more
Positioning Professionals
Hellerman Communications is an award-winning corporate communications agency specializing in positioning professionals to win business. With expertise in strategic marketing & content development, crisis & litigation communications, and social influencer & stakeholder relations, we help the world's most elite professionals and their firms build and protect their most lucrative relationships.
Connect
5335 Wisconsin Avenue NW
Suite 640
Washington, DC 20015