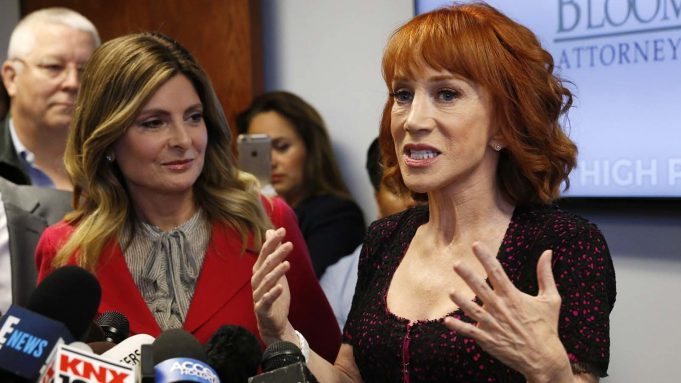 Kathy Griffin is a D-list celebrity for a reason — primarily because she isn't very funny. But her press conference today to blame her self-inflicted wounds on Trump (her victim) and old white men was the funniest piece of performance art I've ever seen.
You could say Kathy Griffin gave them her head on a platter.
First, given the politics of this issue, I want to be clear on mine: Kathy Griffin can produce whatever art she wants. And if Donald Trump or anyone else has a critique of her art or of her as the artist producing it, they're also free to express themselves. If such personal expressions appear to break the law, they should be investigated. Finally, if Ms. Griffin's employers want nothing to do with her because of her poor judgement and tastelessness, that's up to them.
The problem with Griffin's artistic expression was not just that her art, in this case, was tasteless and grotesque (and apparently traumatizing to Trump's 10-year-old son). Instead, the problem was Griffin's strategic blunders: she misread her audience and delivered her message, like her jokes, without any sense of timing.
Griffin's antics are not a diversion for Trump; his supporters would have jumped on her no matter how tame her mockery of the President. But in this current heated news and entertainment atmosphere — with Colbert's controversial comments and numerous anonymously-sourced stories aimed to hurt the administration swirling about — Griffin was the perfect diversion for Hollywood and the media: a leftist villain to tear down and destroy in order to disprove the right's frequent claims of their hypocrisy and bias.
You could say Kathy Griffin gave them her head on a platter.
Positioning Professionals
Hellerman Communications is an award-winning corporate communications agency specializing in positioning professionals to win business. With expertise in strategic marketing & content development, crisis & litigation communications, and social influencer & stakeholder relations, we help the world's most elite professionals and their firms build and protect their most lucrative relationships.