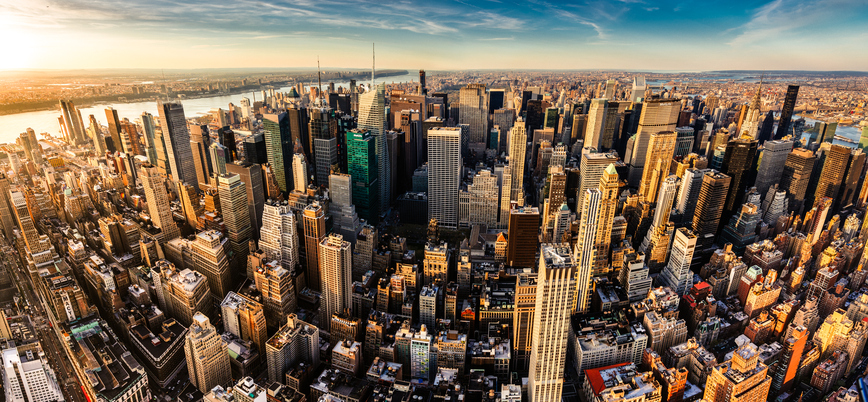 Situation/Objective:
The Beatles famously held off coming to New York before they had a number-one hit. Few of the nation's largest law firms have shown such restraint.
Many of them rapidly increased their numbers, and offices, during the good times—only to undergo painful layoffs and office closures during the recent recession. Meanwhile, Perkins Coie, a national law firm with a strong West Coast presence and more than 800 attorneys, was biding its time. The firm's conservative business planning prevented unsustainable growth. That prudence paid off when the firm added dozens of new lateral hires and opened offices in three new cities while many of its competitors were retreating.
A West coast firm hits the Big Apple.
The capstone of this strategic expansion was the opening of an office in New York City. The addition of attorney Schuyler Carroll made the timing right. Schuyler's well-respected bankruptcy practice, a growth area for the firm, was the solid anchor Perkins Coie needed to open its New York office, just its second outpost on the East Coast.
Given the intense competition in New York and Perkins Coie's determination to make the new office and Carroll a success, Perkins asked Hellerman Communications (HC) to make sure they were a hit.
Analysis/Strategy:
HC's primary goal was to promote the office opening, which became the focus of the initial media plan. The secondary goal was to publicize Schuyler's association with his new firm, and in doing so position him as a thought leader on bankruptcy issues. Thus, the six-month plan had two distinct phases: (1) announce the new office opening, and (2) position Carroll as a bankruptcy attorney with Perkins.
HC's past experience with new office openings has shown that targeting the legal and business press in the local market is critical to an office's success. These local publications are read closely by businesses in local markets and can generate the buzz necessary to establishing a successful office. Likewise, when partners change firms, it's critical that the local market quickly identifies the attorney with his or her new firm in order to capture the business advantages of the move.
To support its approach, HC worked with the firm to identify key target constituencies and develop a comprehensive media list for the office-opening announcement. HC also crafted a targeted list of executive-moves columns in New York in which to publicize the new office and Carroll's addition to the firm. HC then worked with Carroll to identify a number of developing news stories likely to be covered by bankruptcy reporters, as well as emerging issues to serve as subject matter for articles.
Throughout the engagement, HC placed a priority on generating media opportunities in the most respected publications—those that would speak most powerfully to Perkins' clients and prospects, the most important audience of the campaign.
HC's dual-pronged strategy proved successful from the start. The office opening announcement in March was widely covered in local business and national trade media. The coverage was enhanced by an ongoing use of executive-moves columns to announce Perkins' presence in New York and Carroll's move to the firm.
The second component of the strategy—positioning Carroll as a thought leader—required a tailored approach. The poor economy had resulted in a rise in corporate bankruptcies across the board. The increased bankruptcies also caused an exponential growth in "expert" voices, all competing for attention in a shrinking media environment. To break through this clutter and deliver high-quality opportunities for Perkins Coie, HC identified specific areas of focus: (1) the highly publicized Borders bankruptcy; (2) bankruptcy investments by family offices of high-wealth individuals; and (3) bankruptcy trends in New York courts.
HC designed a PR strategy to position Carroll as a third-party commentator on the Borders bankruptcy, while also seeking article-writing opportunities on issues relevant to family offices and New York courts. This balance ensured Carroll received prominent coverage discussing a major bankruptcy case that would reinforce his status as a leader in the field, while also providing opportunities, through byline articles, to share deeper analysis on bankruptcy trends and tips for businesses in New York and family offices.
Results/Execution:
HC's success exceeded Perkin' expectations. The media outreach increased the firm's profile in New York and positioned both the firm and Carroll as leaders in bankruptcy law. Carroll has also been effectively branded as an attorney with Perkins, a key benchmark for this project.
A simple Google search returns a number of hits for Carroll with Perkins, including media placements. In the first set of 20 Google results, Carroll is associated with Perkins in 80% of the results. HC also successfully generated high-level article opportunities. He has already published a guest piece in the "Outside Counsel" column of The New York Law Journal, the leading legal publication in New York. He is also awaiting publication of articles in Private Wealth magazine, a key trade publication for family offices, and Bloomberg Law Reports. HC encouraged Carroll to co-author these guest columns with Perkins Coie colleagues in other practices, when appropriate, to highlight the firm's various strengths and cross-promote its practices.
The results of the campaign have been impressive, with 42 high-level media hits within months of its launch. In addition to obtaining the guest column placements, HC successfully positioned Carroll as a top source on the Borders bankruptcy case. He was quoted in a variety of leading business and trade publications, including Bloomberg, Reuters, Turnarounds & Workouts, and Debtwire. HC also secured a number of profiles of Carroll and the new office in leading trade publications such as The Deal, AmLaw Daily, Law360, and Legal Bisnow NY. This coverage underlines the firm's status as a player in the New York market, increasing Perkins' profile in the city and establishing Carroll as a leading source on corporate bankruptcy. In short, making them a hit.
Positioning Professionals
Hellerman Communications is an award-winning corporate communications agency specializing in positioning professionals to win business. With expertise in strategic marketing & content development, crisis & litigation communications, and social influencer & stakeholder relations, we help the world's most elite professionals and their firms build and protect their most lucrative relationships.